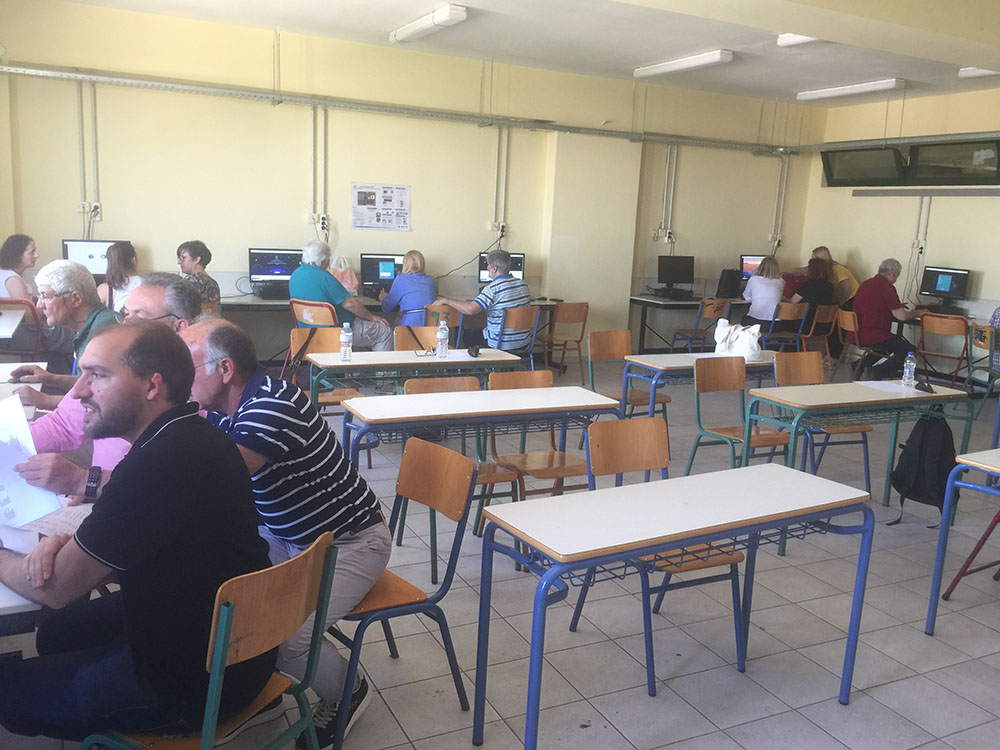 The workshop titled "Artificial Intelligence in the Classroom: Revolution or Threat?" was held on June 20, 2023, at the Workshop Center of Agios Dimitrios. The event aimed to explore the potential impact of Artificial Intelligence (AI) on education, specifically focusing on its revolutionary aspects and potential threats. The workshop was organized by the Hellenic Union of Physicists and the R&D Department of EA
The workshop centered around the transformative role of AI in the field of education. It addressed how AI can revolutionize teaching and learning methods, allowing educators to personalize instruction, identify learning gaps, and provide real-time feedback to students of all abilities, even in remote areas. The workshop emphasized the importance of fostering AI literacy and skills among students and educators to harness AI's full potential. It also highlighted the ethical considerations associated with AI, such as bias, privacy, and transparency.
Two innovative co-funded projects from the Erasmus+ program were showcased during the workshop:
AI4EDU Project: This project seeks to innovate school education by exploring, implementing, and evaluating new research approaches and AI applications. These AI applications support educators and students in achieving their teaching and learning goals through interactive virtual assistants. The project presentation was delivered by Gregoris Milopoulos from the Hellenic-German Education.
Adventure in Artificial Intelligence Project: This project, centered around a pedagogical approach based on digital gaming, aims to educate students (ages 7-12) about artificial intelligence. Through gamified learning, students grasp the concepts of AI and comprehend its advantages and implications in their lives. Dimitra Dimitrakopoulou, also from the Hellenic-German Education, introduced and elaborated on this project.
The workshop "Artificial Intelligence in the Classroom: Revolution or Threat?" provided a comprehensive exploration of the transformative potential of AI in education. By showcasing the AI4EDU and Adventure in Artificial Intelligence projects, participants gained insights into innovative educational approaches that harness AI's capabilities. The workshop fostered discussions on the ethical considerations and practical implementations of AI in the classroom, contributing to the ongoing dialogue on the role of AI in education.
The workshop successfully engaged educators, researchers, and stakeholders in a meaningful conversation about the future of education in the context of AI advancements. It highlighted the importance of embracing AI while addressing potential challenges and ethical concerns, ultimately paving the way for a more informed and empowered education system.
The workshop's agenda included the following sessions:
Welcome Address by Panagiotis Philntisis, Hellenic Union of Physicists.
Introduction to Artificial Intelligence and GPT by Grigoris Milopoulos, EA
Presentation of the educational game "Adventure in AI" by Dimitra Dimitrakopoulou, EA
Presentation and application of educational scenarios from "Adventure in AI."
Presentation of the AI4EDU Project by Grigoris Milopoulos.
Analysis and evaluation of a lesson plan using GPT.
Creation of a lesson plan with the assistance of GPT.