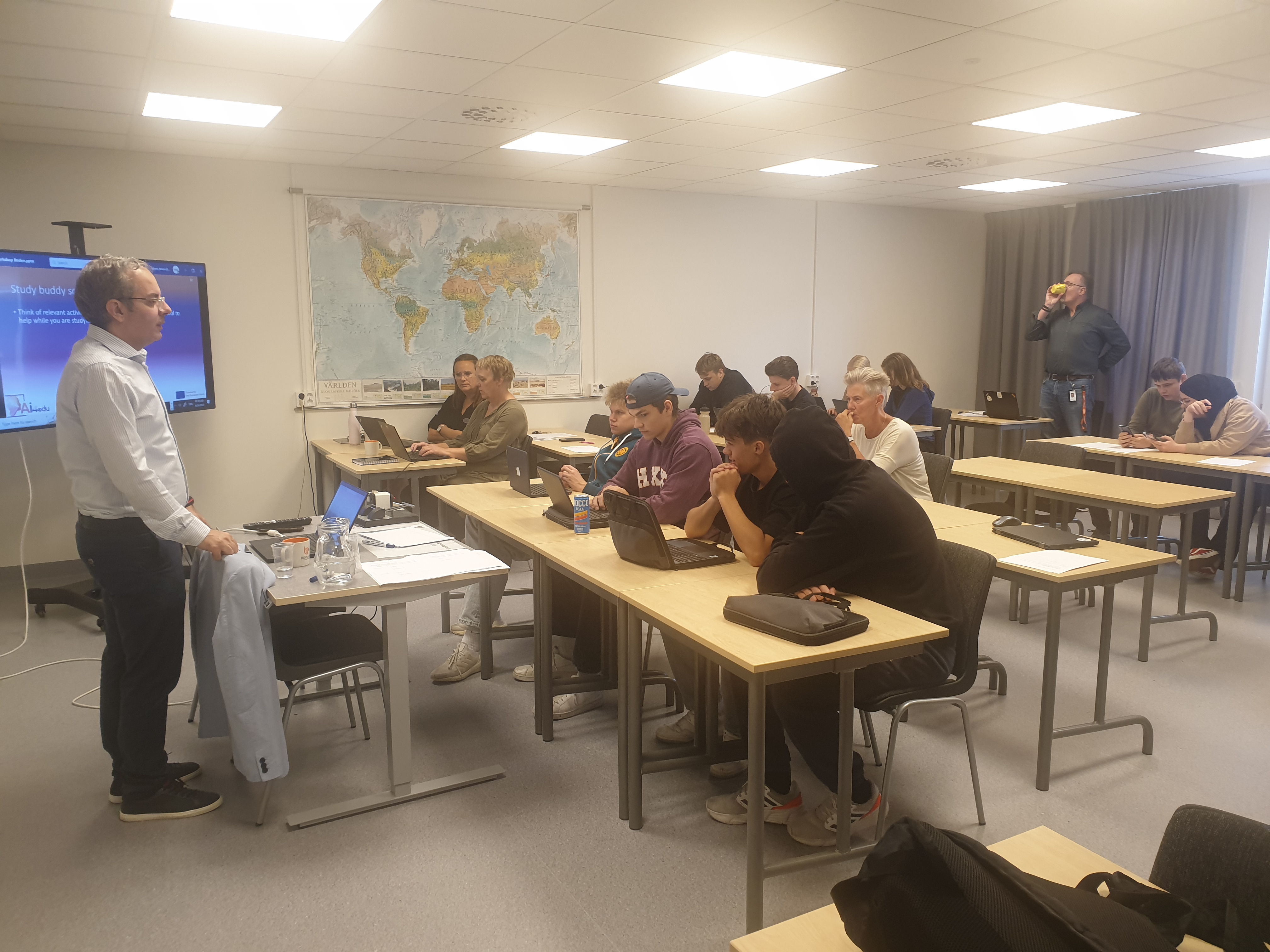 The Students Workshop on AI in Education held on August 24, 2023, at Björknäsgymnasiet, Boden, Sweden, continued the exploration of Artificial Intelligence's role in education. The workshop aimed to introduce students to AI concepts and provide hands-on experience with the preliminary version of the Study Buddy, an AI assistant developed as part of AI4EDU
The workshop has two main parts:
Introduction to AI: The objective was to introduce students to the fundamental concepts of Artificial Intelligence and its relevance to education. Hamam Mokayed from the Luleå University of Technology delivered an insightful introduction to the world of Artificial Intelligence. He explained the core principles of AI, its various applications, and how it intersects with the field of education.
Interactive Learning: The target was to engage students in hands-on activities using the Study Buddy AI assistant, enabling them to explore its functionalities and experience its potential benefits. The students actively participated in a hands-on session, interacting with the preliminary version of the Study Buddy AI assistant. They engaged in exploratory learning, generating questions, receiving feedback, and experiencing the Study Buddy's conversational capabilities.
The workshop achieved its intended outcomes by familiarizing students with AI principles and showcasing the Study Buddy's potential as an educational tool. The hands-on activity allowed participants to witness firsthand how AI can augment the learning experience, encouraging active engagement and critical thinking.
The Students Workshop on AI in Education held at Björknäsgymnasiet further solidified the importance of integrating AI into education. The insightful introduction by Hamam Mokayed, followed by the hands-on Study Buddy interaction, provided students with a comprehensive understanding of AI's capabilities and its role in shaping the future of learning.
The workshop's interactive nature fostered curiosity, encouraging students to explore AI's possibilities beyond the workshop. As these young minds gain exposure to AI technology, they are better equipped to embrace the evolving landscape of education and contribute to its advancement.